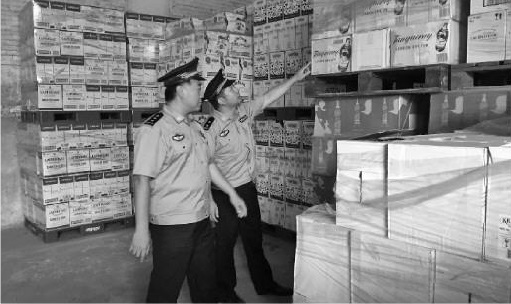 New details released by Chinese Customs regarding one of the biggest drinks smuggling cases in China in recent years have revealed a sophisticated network of shell companies, operating in both Tianjin and Beijing, smuggling untaxed wines, spirits and beers worth about RMB 500 million (US$73.5 million).
According to a report by Chinese language Legal Daily, a company called Lin Sen International Trading caught Tianjin customs officials' attention following the complete disappearance of its trading activities in Tianjin after it imported RMB 100 million (US$14.7 million) worth of spirits, wines, beers and mineral waters between August and December in 2015.
The sudden halt raised customs officials' suspicion and further investigation led them to discover a company with the same name in Beijing. The company opened up in the Chinese capital shortly after the Tianjin one went silent, and within a short span of three months, it imported more than RMB 100 million worth of alcoholic beverages before going off radar again.
Further investigation revealed that five companies (Tianjin Lin Sen, Beijing Lin Sen, Tianjin Site, Tianjin Lexin, Beijing Jiabao), all operated in similar ways and shared the same staff, logistics patterns and financial activities.
From March 2015 to December 2016 the five shell companies, led by suspects named Kong and Peng, under-declared the value of imported drinks from Germany, France and Russia by 60% to 90%, according to the report.
The investigation is still ongoing.
(Source: The Drinks Business)