The concept of 'crisp skin' is very common in traditional Chinese food, particularly those made in the way of 'roast' or 'deep fried'. The most famous dishes are as following:
Beijing Roast Duck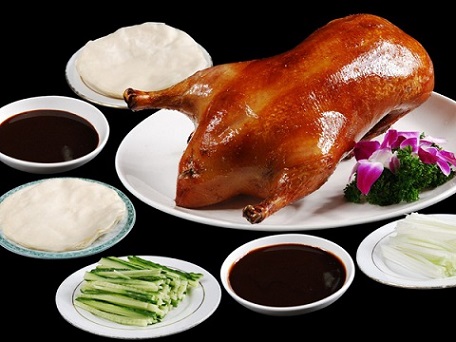 Unquestionably, Beijing Roast Duck is the world-famous dish in Beijing. The technique of slicing the skin and meat has a profound influence on the presentation and the diner's sensations of texture and taste of the duck. The cook usually slices the duck in front of customers. Usually, the cook slices the skin first then the meat; the skin is kept separated from the flesh, placing in different plates; vegetables dishes are offered, generally shredded scallion and cucumber sticks. Diners hold a piece of pancake and spread sauce over it, then add a delicate serve of skin, meat and vegetables and wrap them. This is one delicacy that is definitely acceptable to eat by hand. A sophisticated diner knows to taste the crisp skin alone before enjoying the pancake roll.
Guangdong-style Roast Goose
In southern China (Guangdong Province and Hong Kong), roast goose is a variety of siu mei, within Cantonese cuisine. It is made by roasting geese with seasoning in a charcoal furnace at high temperature. Roasted geese of high quality have crisp skin with juicy and tender meat. Slices of roasted goose are normally served with plum sauce.
Pigeon with Crisp Skin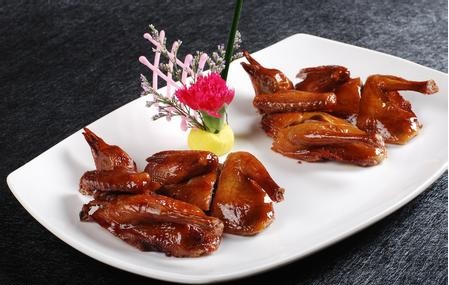 A Cantonese cuisine. There are three different methods to craft the crispy pigeon, but generally it's made by deep fried pigeon after a short period of boil and soak in crispy water.
So, what kinds of wines are suitable for the marriage? The acid is always the most important consideration since the crisp skin possessed an undue sense of oiliness that is required to be buffered. Both freshly acidic white and red wines are highly recommended, for the white, Chablis, Riesling and Aligote are the best choices, while the red wines with piercing acid are also good selections, for example, Pinot Noir, Gamay or Barbera. For the Beijing Roast Duck in particular, I suggest to match it with Burgundy wines (can be wines made from either Pinot Noir or Chardonnay or Aligote).